News

---
FOR IMMEDIATE RELEASE
November 20, 2015
CONTACT: Ashley Brooks
312-643-1923
ashley@lauraschwartzlive.com
Laura Kicks Off 2nd Annual
Mac & Cheese Fest as Lunch Emcee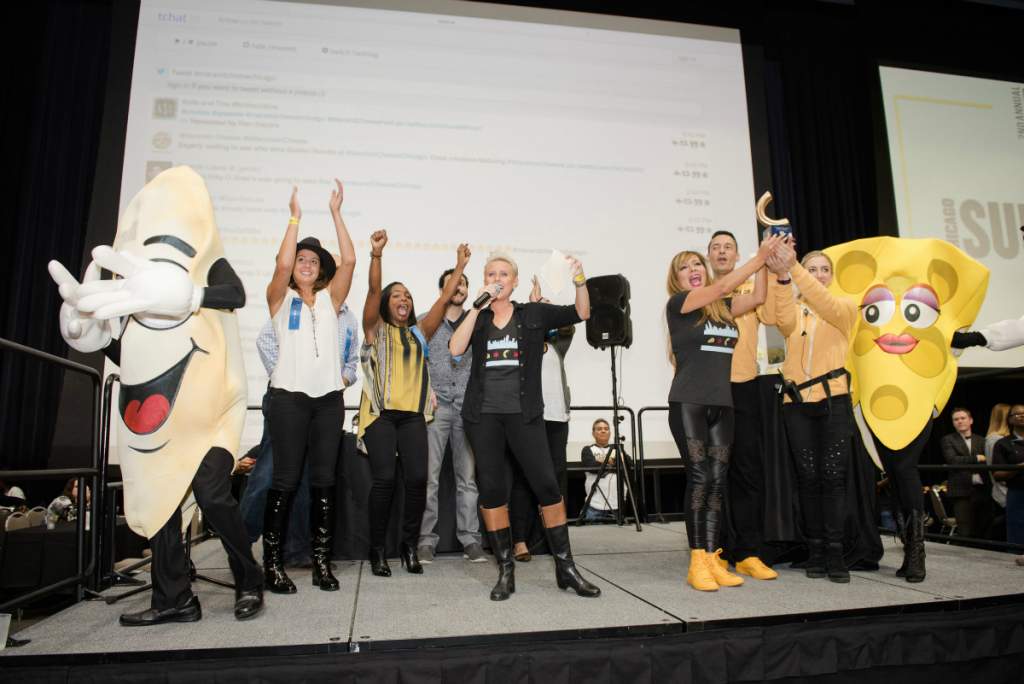 Picture supplied by Mac and Cheese Fest
CHICAGO, IL — On Saturday, October 24, Chicago's UIC Forum was packed with hundreds of eager foodies as the 2nd Annual Mac & Cheese Fest showcased one of America's most iconic comfort foods. More than 75 of the Windy City's finest chefs shared their unique creations with the public, and a panel of judges was on-hand to join the audience in sampling.
Laura Schwartz was the first to welcome the crowds to the lively fête as they were immediately wowed by the gourmet offerings, from truffle braised duck mac and cheese to white cheddar and chorizo macarón con queso. Also, all of the dishes were paired with beer and spirits to make for perhaps the most delicious Chicago Saturday this season!
"If there is one thing I love about Chicago, it's its historic and always evolving food scene," comments Emcee Laura Schwartz. "Even better, a portion of the day's proceeds went directly to the area's Ronald McDonald House charities (RMHC), so the entire celebration was for a truly worthwhile cause."
$25,000 was donated to the RMHC Chicagoland & Northwest Indiana. The lunch session's GOLDEN NOODLE AWARD for Best Mac & Cheese was conferred to AMK Kitchen Bar, while Kitty O'Sheas and Real Urban Barbecue picked up the runner up prizes.
For more information, or to schedule an interview, please contact Ashley Brooks at ashley@lauraschwartzlive.com or 312-643-1923.
About Mac & Cheese Fest
Mac & Cheese Fest is a celebration of the dish with roots dating back to the 14th century, recipes that span continents to entice aficionados galore.
Mac & Cheese Fest features approximately 75+ Chicago chefs featuring their versions of Mac and Cheese, inspired from cultures, family traditions and their restaurant's menu. Chefs will be asked to use any kind of pasta with any type of cheese as the primary ingredients. Two lucky chefs, recognized by attendees and a panel of foodies, will take home "THE GOLDEN NOODLE."
A portion of the proceeds benefit Ronald McDonald House Charities® of Chicagoland & Northwest Indiana.
For more details, please visit: http://macandcheesechicago.com
Follow Laura online:

twitter.com/lauraschwartz

linkedin.com/in/lauraschwartz

facebook.com/lauraschwartz
# # #