Lead Keynotes Junior League of Chicago
Chicago, Illinois — Laura Schwartz Live is proud to announce that Emcee and Keynote Speaker Laura Schwartz was the keynote for the Junior League of Chicago 2022 Annual Meeting. Laura created a conversation on Leadership for she and the President to discuss both the historical roots of the Junior League and their tremendous impact in the community still today.
Laura commented, "I really enjoy using keynotes in a dynamic way to create a conversation with an audience. President Michelle Schumacher was a wonderful partner in this conversation who is a strong leader in her own right and I relished the opportunity to create such an interesting dialogue."
For more than a century, The Junior League has empowered women to lead. We've worked with leaders who've set bold goals, opened their circles, disrupted convention and changed the conversation for the betterment of civil society. The Junior League of Chicago (JLC) partners with community organizations, non-profits, and schools, allowing them to better achieve their mission.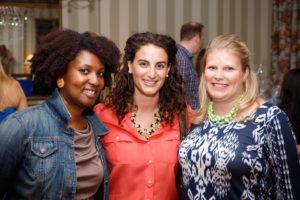 The Junior League of Chicago is dedicated to strengthening and transforming our community through effective action and leadership of well-trained volunteers.
Through collaboration and community engagement, we seek to remove the many barriers to success which limit the ability of disadvantaged children and families to improve themselves and their community.
About Laura Schwartz
Professional Emcee, Keynote Speaker and Author Laura Schwartz knows how to make live events succeed.  Whether hosting a corporate event or delivering a keynote on stage, Laura brings the experience and energy to make your message resonate with any audience! Laura was voted by as one of the 100 Most Influential People in the International Events Industry in 2019, 2020 and 2021. Along with her cast of ITV London, Laura and team won the prestigious Drum Awards "Podcast of the Year" in 2021.
For more information on or to schedule Laura to speak, please contact Ashley Brooks at ashley@lauraschwartzlive.com or 312-767-7415.