EMCEE, MODERATOR and INTERVIEWER
Laura embraces emceeing conferences and events of all sizes, conducts interviews on stage with CEOs, industry leaders and celebrities, and moderates expert panel discussions. Through her effortless energy, she tailors her role as an emcee to the tone and purpose of each conference and becomes a true Brand Ambassador of your company or association, its culture and industry. Laura prepares for each event by conducting extensive research into the organization or association's brand and audience, whether it's a short afternoon event or a four-day conference.
Laura has had great success as an Emcee for a variety of events, including annual conferences, international forums, charity galas, sporting events and fashion shows. She keeps audiences engaged and their energy in-sync with the event's overarching purpose.
A sampling of Laura's past Emcee clients:
Hewlett Packard's DSCOOP Conference for 2,500 attendees, including an on-stage interview with Steve Wozniak
Asembia Specialty Pharmaceutical Summit for 5,000 attendees, including on-stage interviews with actor Rob Lowe & Fox News Channel anchor Bret Bair
Baird Financial Forum for 1,200, including on-stage interview of famed political strategists James Carville and Mary Matalin
UPDATE Forum for 500, including interviews with U.S. Ambassador Bruce Oreck, Henne Melin, director of global public policy and head of eBay Inc. Europe, Middle East and Africa, Blanca Juti, Heineken chief corporate relations officer, Sharing Economy expert Arun Sundrararajan and Iranian trailblazer Milad Mohammadi
Essilor North America's annual sales conference for 3,000, including on-stage interview with celebrity spokesperson actress Finola Hughes
Convention Industry Council's annual Hall of Leaders Gala at the MGM Grand
Financial and Insurance Conference Planners' (FICP) annual conference emcee at LA Live for 750+
Connect Marketplace conference for 2,000 at Chicago's Navy Pier Ballroom
Cathay Pacific Airways announcement of its Chicago-to-Hong Kong gateway service at the Peninsula Chicago with world business leaders in attendance
Annual American Heart Association's Heart Walk Emcee in Chicago's Grant Park
The Martin Luther King, Jr. Center's moderator for a panel of civil rights leaders for the commemoration of the 50th Anniversary of the March on Washington
AN EXAMPLE OF LAURA USING A UNIQUE EMCEE FORMAT TO ENGAGE IN HELSINKI, FINLAND: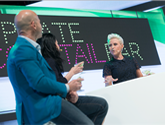 In April 2016, Laura hosted the "UPDATE Forum of Insight" in Helsinki, Finland, for an audience of ambassadors, business leaders and entrepreneurs from a variety of industries. Following a day filled with back-to-back important yet formidable sessions; Laura took the stage for the last general session of the day in a bartender's apron as the set was transformed into the "Update Cocktail Bar." She introduced four experts to join her at the bar for a dynamic and interesting conversation about their individual specializations, while, at the same time, weaving those conversations together to keep the focus on the message and objective of the Forum. The audience was involved and enjoyed bottled smoothies during the happy hour conversation. The Forum leaders, experts and audience all loved it and so did Laura! You can catch Laura in action at the UPDATE Cocktail Bar here.
SAMPLE OF GROUPS WHO WOULD FIND LAURA'S PROFESSIONAL EMCEE SERVICES VALUABLE:
Annual Association Conferences, Corporate Sales Meetings, World Forums, Women Leadership Summits, Mega Independent Consultancy Conferences. Laura is a respected emcee for all occasions, industries and organizations throughout the world.
CONTACT LAURA TO EMCEE YOUR CONFERENCE, GALA, PROGRAM OR EVENT:
If you are a Speakers Bureau, or a Meeting Planner and would like to inquire about Laura's availability and fees please contact Laura's representation at Eagles Talent Speakers Bureau. If you are an individual meeting planner, with a corporation or association please contact Ashley Brooks in Laura's office at 312-767-7415 or email Ashley@LauraSchwartzLive.com.
Laura Schwartz is a professional speaker who "in essence blows you away with both her style and substance."
A positive and knowledgeable commentator, Laura appears on television regularly to discuss special events, leadership,
networking and pop culture.
In her first book, Eat, Drink & Succeed, Laura shares the secrets that skyrocketed her onto the world stage.
Laura's Client Highlights: