Testimonials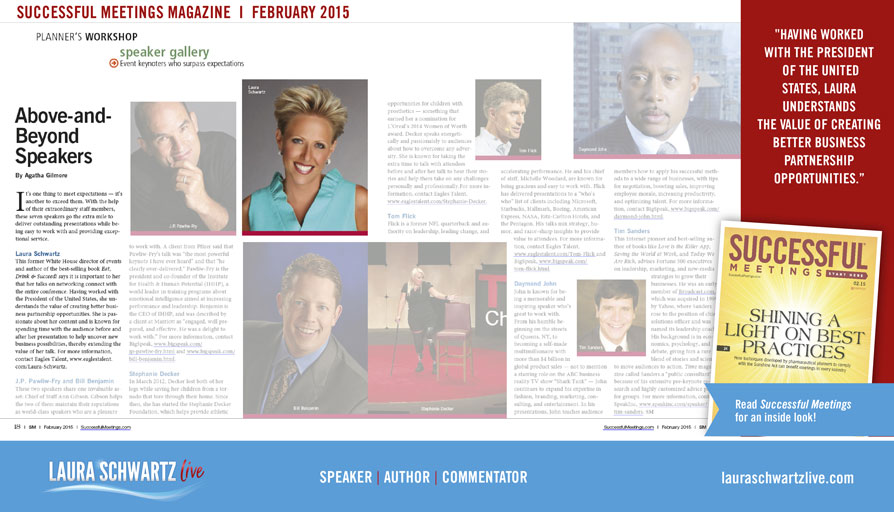 Laura Schwartz is one of seven keynoters who surpasses expectations...having worked with the President of the United States, she understands the value of creating better business partnership opportunities.

Behind the scenes at the White House, Laura saw firsthand that we can best 'achieve ourselves' by helping others, but that doing so requires us to go beyond our good intentions with a determination not to be distracted and a commitment to building partnerships with those who share our goals.

Laura is an outstanding communicator as I know from her sparkling appearances on Frost Over The World. I'm sure that her book will be an equal success. As she says 'Your career isn't 9-5, it's 24-7' and she's living proof of just how well that works.
Laura's talent and command of the audience, as well as a well-presented keynote address made the show for all in attendance. I would highly recommend Laura as a keynote and emcee. I am proud to have worked with her and will leverage the fact that I know her in every circle I can!
Your presentation was wonderful, as always, and our team was fully engaged. We received much positive feedback about you as a speaker and the absolute relevance of the subject for our team. As always, you were a big hit!
She (Laura) is organized and she delivers—our members loved her. She worked in association information and SWS details throughout her presentation. She had studied us and knew what we were all about. And we are a tough group—as people who hire and hear speakers all the time, we are hard to impress. But Laura brought out the best in everyone and she got outstanding reviews.
Laura's enthusiasm as she presented each and every award kept the audience on their toes. What could have been a lengthy, uneventful program became a true celebration of everyone's work to bring United Way's mission to life. She was flawless! Attendees raved that this year's program was by far their favorite due in large part to Laura's energy.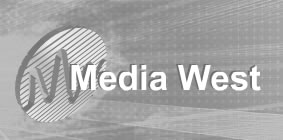 My team all had nothing but praise for your work and all that you did to make their job easier. Personally, they spoke so highly of your professionalism, communication skills, high energy and very powerful presentation skills. They said you were one of the best we have ever worked with...and since we have about 120 programs each year, that says a lot to me!"
You were just terrific at our meeting and we received nothing but rave reviews back from our attending members! I can't remember a time when one of our speakers received such all-around praise from this many attendees. Great job and thank you for making us look so smart by booking you for the event!
Your live interview with Sue was absolutely fantastic and a true highlight of the entire show. You are a genuine inspiration and I feel privileged that you agreed to be a part of our speaker programme. You have been a terrific support and a pleasure to work with!
You are one of the few speakers who researched the audience and spoke to us. Your enthusiasm was infectious! Many members were talking about you the rest of the day!
You really were the first thing on my mind this morning! Your presentation was inspirational and exactly what I needed to stay motivated toward my networking and recruiting goals.
You were the highlight of our annual conference. There has never been a speaker that has made such an impact on all our attendees. You and your message are relevant, positive, interesting and motivating! Thank you for "Knocking the Lights out at the Conference!"  We will be talking about it for years I'm sure!
I can't remember so enjoying a presentation. Entertaining, inspirational and connected!
Professional yet personal, you engage the crowd with ease. From the opening moment, both your charisma and your bond with the audience are apparent. Your creative approach to entertaining while delivering the client's intended message is excellent. You have the knack to make each individual in the audience feel special! You are the glue that holds the show together.
Your book was AMAZING!!! I read it all the way to London and although I had plans to catch some sleep on the plane, your phenomenal stories kept me up - I related to so many of your experiences Laura and am really impressed with your achievements - Well done!