Laura donates 100% of proceeds from her book, "Eat Drink & Succeed", sold at engagements around the world to the scholarship fund or charity of the client's choice.
About Eat, Drink & Succeed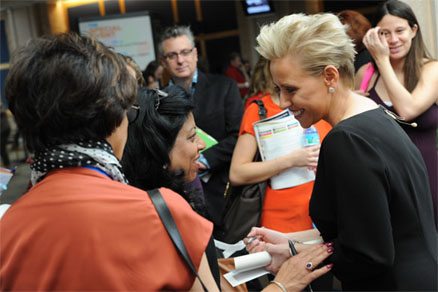 With no political connections, communications wunderkind Laura Schwartz networked her way from answering phones for President Clinton's press office at age 19 to producing more than 1,000 events as the White House Director of Events. In her first book, Eat, Drink & Succeed, Schwartz, now a professional speaker and national television commentator, shows how the secrets that propelled her to success can do the same for you. Taking a cue from show biz, she presents her strategy in fun and easy-to-follow steps: Setting the Scene, Casting Call, Dress Rehearsal, Showtime and Encore! The book is an entertaining, enlightening and motivational read that delivers proven techniques to help you network, build partnerships and excel at every turn of your personal and professional life as you Eat, Drink & Succeed!
I am an independent consultant for a major retailer and I picked up so much in this book that I bought one for each member of my team! They love it and are putting it into action as we all Eat, Drink & Succeed!
Laura is the guru of social connections and networking. Her book is enjoyable, easy to read and apply to social situations that can lead to new business opportunities. Must-read if you want to succeed in today's busy world.
Laura's Client Highlights: