LAURA EMCEES IN AUSTRALIA: EVENT BIRDIE MEDIA CITES HER AS REASON TO ATTEND!
Sydney, Australia — EventBirdie.com asked whether it was worth attending The Business of Events Conference in Sydney. The answer was a resounding YES citing Laura Schwartz, the Emcee, as it's first reason why!
Event Birdie is an online resource for event professionals and people who want to plan events like a Pro.
Read the full article here and see a snippet below:
The Business of Events – Was it worth attending?
1. Laura Schwartz – one helluva MC!
"Laura's opening message was to Eat, Drink and Succeed – a philosophy of hers that encourages us to engage and be present during the social elements of business events in order to harness a world of opportunity. 
Laura was quick to point out that as event planners, it is our responsibility to design and build these opportunities into our event programs to give guests a platform for making lasting partnerships.
I believe all delegates at The Business of Events took on Laura's advice and the networking elements of The Business of Events were not only enjoyable, but productive too.
Laura closed the event with another excellent message about an event's ROI vs ROE (Return on Experience). While many are keen to see a dollar figure return on attending events, what Laura believes we should focus on is the ROE. What did you gain from the experience? The answer in the case of The Business of Events – is a lot more than new business opportunities! (We got those too!)
Laura would make a great MC or speaker for conferences in a wide range of industries, in particular sales conferences where you want to inspire delegates to look for opportunities and learn to build relationships that turn into long-lasting partnerships."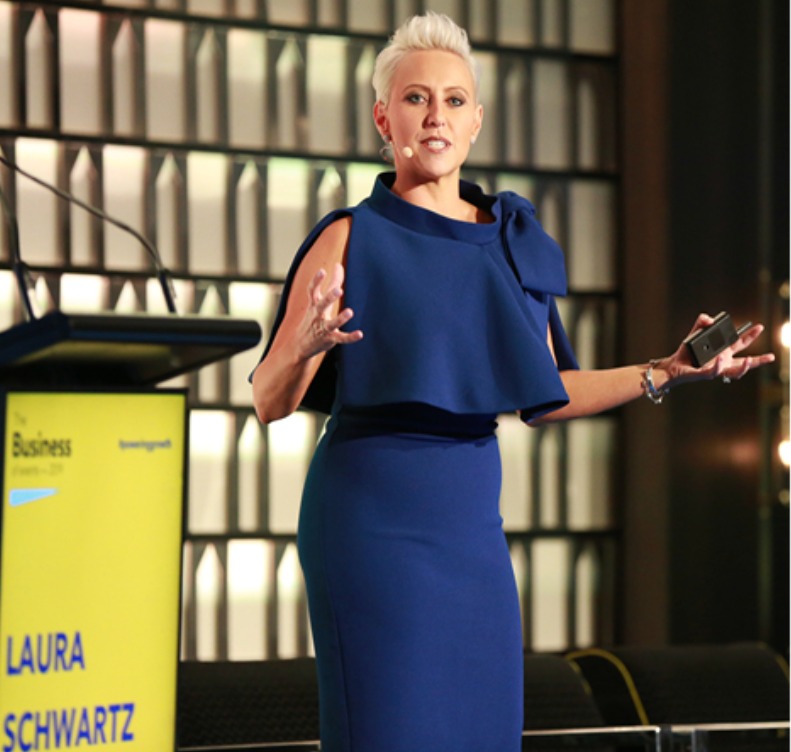 About Laura Schwartz
Professional Emcee and Keynote Speaker Laura Schwartz knows how to make live events succeed.  Whether hosting a corporate event or delivering a keynote on stage, Laura brings the experience and energy to make your message resonate with any audience!
About The Business of Events
The Business of Events is an insightful, two-day conference that provides deep insight into the global event market and how it impacts your business.
For more information on or to schedule Laura to speak, please contact Ashley Brooks at ashley@lauraschwartzlive.com or 312-767-7415.