LAURA JOINS THE SRAL KEYSTONE BOARD
Chicago, Illinois — Professional Emcee and Keynote Speaker Laura Schwartz has been named to the Keystone Board of the Shirley Ryan Ability Lab (SRAL). Laura has been an advocate of SRAL since her father's successful inpatient experience and recovery in 2021 and is excited about her role in this new and official capacity.
The Shirley Ryan Ability Lab is a 1.2 million-square-foot facility and the first-ever "translational" research hospital in which clinicians, scientists, innovators and technologists work together in the same space — surrounding patients, discovering new approaches and applying (or "translating") research real time. This translational approach means patients have 24/7 access to the brightest minds, the latest research, and the best opportunity for recovery.
Located in Chicago and #1 for 32 consecutive years, The Shirley Ryan AbilityLab (formerly Rehabilitation Institute of Chicago) is the top rehabilitation destination for adults and children with the most severe, complex conditions — from traumatic brain and spinal cord injury to stroke, amputation and cancer. The Keystone Board maximizes the reach, bright visibility and high impact of SRAL.
The music video "Say I Won't" by Mercy Me premiered in 2021 as a tribute to the work and recovery specialized at SRAL. The music video with featuring patients Diego, Alex and Fahad as they meet new milestones with passion and determination.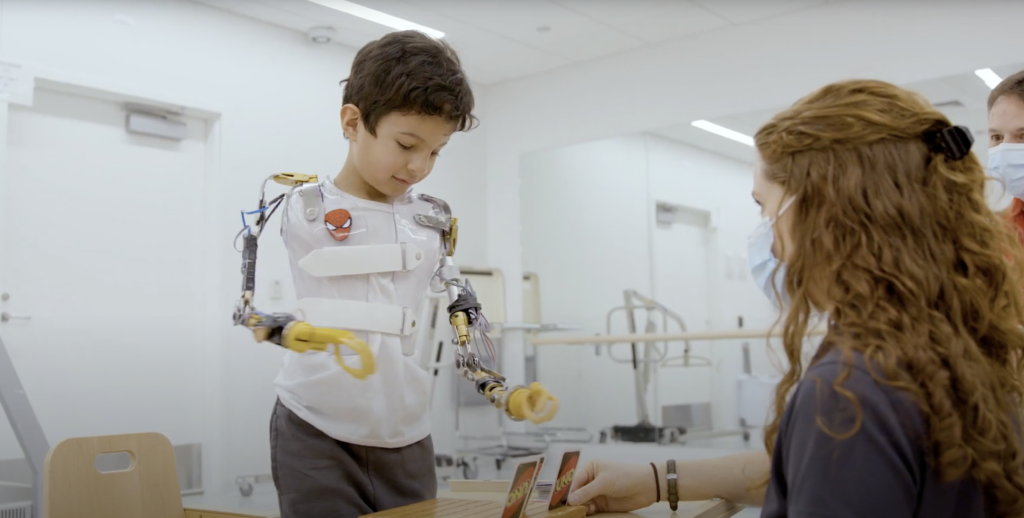 "Today, it all begins … I'm seeing my life, for the very first time, through a different lens." – Song and lyrics by Mercy Me
What are the Key Features of The Shirley Ryan Ability Lab?
Each of five ability labs — Think + Speak Lab, Legs + Walking Lab, Arms + Hands Lab, Strength + Endurance Lab, and Pediatric Lab — provide for both active and visible "front stage" patient work with clinicians and researchers, as well as private, heads-down "back stage" space for analysis and planning.
An innovative "wet" lab allows researchers to study diseases, conditions and injuries that can only be solved at the cellular level. Scientists are able to increase the number and speed of discoveries because they are co-located with clinical teams and patients.
Design elements play a vital role in patients' therapy and recovery. Curved walls, for example, allow for more natural and "frictionless" movement, especially for people with physical disabilities and those who use wheelchairs for mobility.
The 10th floor Sky Lobby is the welcome center and communal hub with beautiful therapy gardens. The floor's vertical volume is accented by a tapered ceiling plane that rises as it moves toward the transparent curtain wall that wraps the floor, maximizing daylight and expansive views.
The thoughtful design of space unites with bold and motivating interior graphics and wayfinding to support Shirley Ryan AbilityLab's brand.
Color climbs to a crescendo as all pathways focus on the collaborative zone of the ability labs. Each lab is defined by its specialty and graphics, and integrated to create opportunities for measurement and metrics, thus reinforcing that "therapy happens everywhere and progress is measured in everything."
With an average stay of 24 days, inpatient rooms were designed to provide visual access to restrooms, places for personal keepsakes and sweeping views of the city oriented to encourage movement and progress.
Extensive landscaping and green space at both the street-level and throughout the upper spaces afford access to gardens. A green roof system tops the building. These features promote a healing environment and provide practical benefits such as the absorption of heat at the roof and the diversion of rainwater from entering the city sewers.
About Laura Schwartz
Professional Emcee, Keynote Speaker and Author Laura Schwartz knows how to make live events succeed.  Whether hosting a corporate event or delivering a keynote on stage, Laura brings the experience and energy to make your message resonate with any audience! Laura was voted yearly as one of the 100 Most Influential People in the International Events Industry 2022, 2021, 2020 and 2019. Along with her cast of ITV London, Laura and team won the prestigious Drum Awards "Podcast of the Year" in 2021.
For more information on or to schedule Laura to speak, please contact Ashley Brooks at ashley@lauraschwartzlive.com or 312-767-7415.